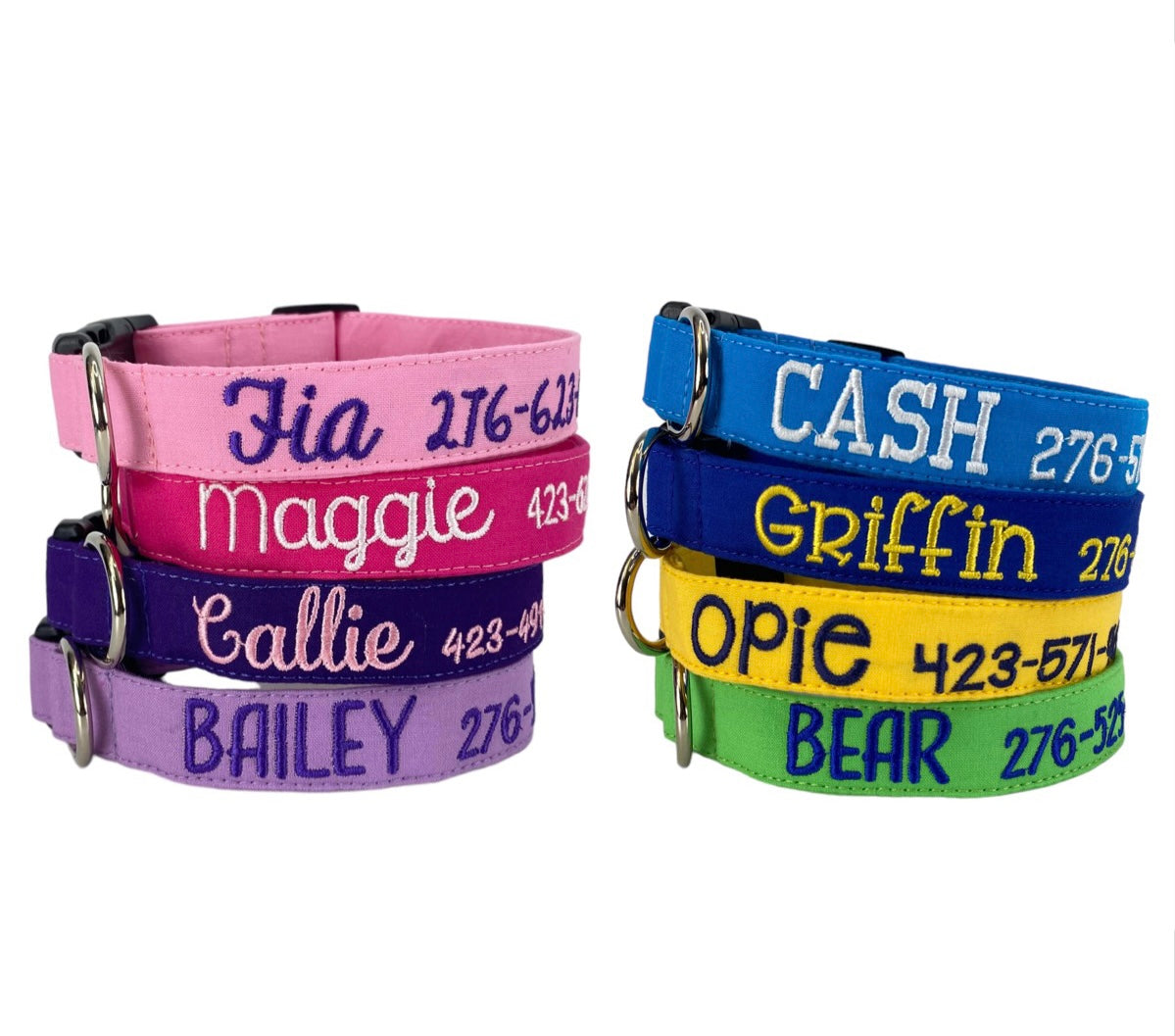 Personalized Dog Collars | Embroidered Dog Collars | Duke & Fox®
Duke & Fox® Dog Collars are handmade in the USA.
Keep it basic and stay safe with our embroidered dog collars in colors of your choice. 
Whether choosing from a traditional dog collar, embroidered dog collar, or engraved buckle dog collar, you'll find a great selection to choose from.  Duke & Fox® personalized dog collars come in a variety of unique styles and patterns. Our embroidered collars and engraved buckle collars also add to your dog's safety and your peace of mind with critical contact information should you and your dog get separated. 

Our collars are functional, stylish, and handmade to stand out and express your pup's personality and your sense of style.  Duke & Fox® custom dog collars are made to order and are customized to your exact criteria.  You have the option of choosing the pattern, thread colors, font, and buckle style. We also offer matching leashes, bow ties, flowers, and bandanas to complete your look.
Features: adjustable dog collar made with nylon/polypropylene, reinforced fabric, side release buckle, tri-glide, and welded d-ring.    
Love the collar and the seller!
My neighbor got matching collars and leashes from dukeandfox, and I loved them. I had several questions, and the buyer responded very quickly to each question. Also, my dogs' neck sizes were right at the top end of the medium size, but they also will put on a thick undercoat for winter, so I wasn't sure what size to get. Again, dukeandfox were very responsive and helpful. They customized them to exactly what I needed! They also kept me informed about the mailing of the collars and expected delivery date. Part of what I love most is that the collars hold their size. I have one dog who likes to pull on the other dog's collar, so slippage in length could be extremely dangerous. I can't tell you how many other collars I had purchased that could be shortened or lengthened easily by her pulling, so it was wonderful to find the dukeandfox collars! Highly recommend the seller and the product!