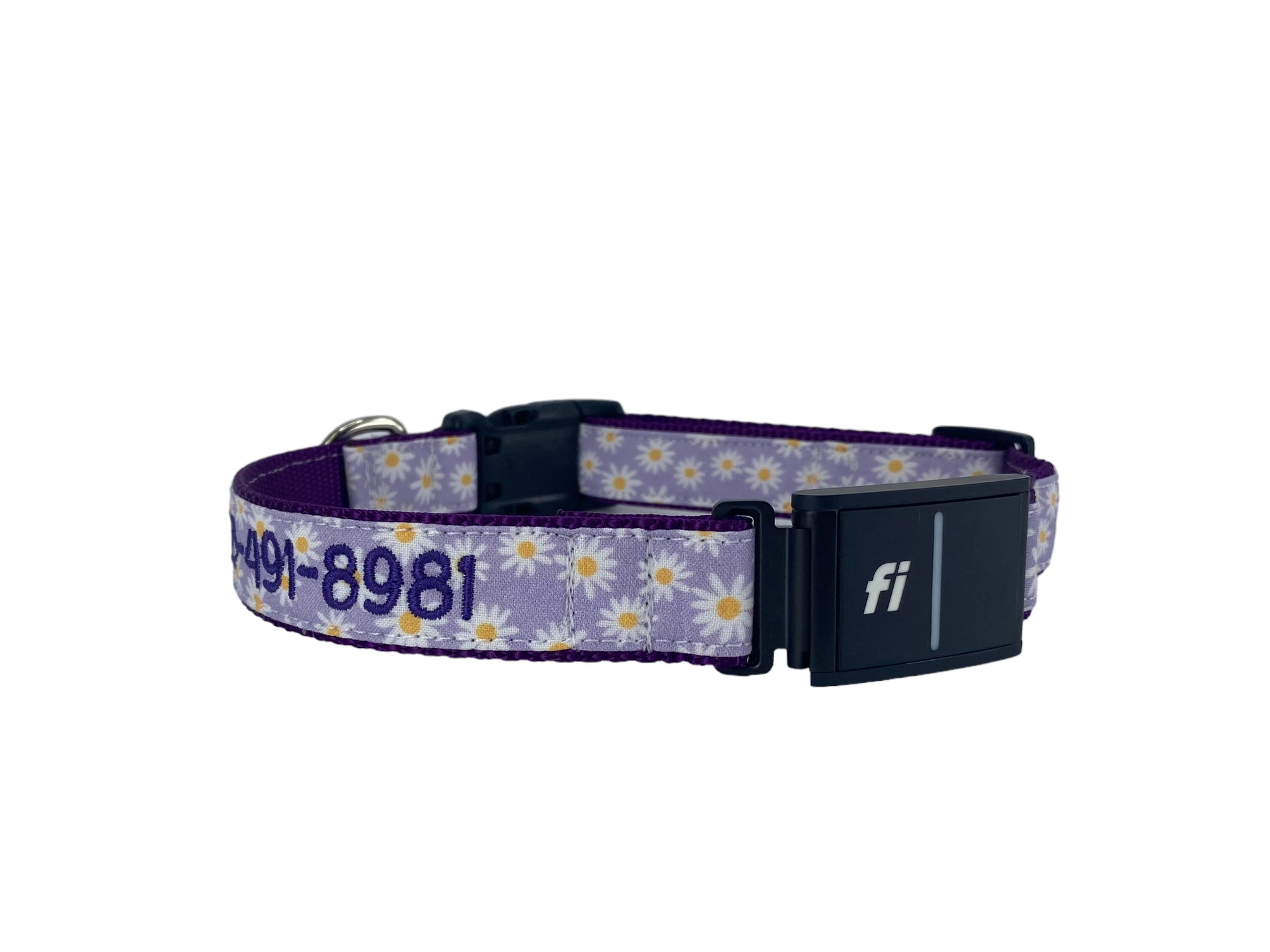 Personalized Fi Dog Collar | Series 3 Fi Compatible Dog Collar
Fi purchased seperately.
Duke & Fox® Dog Collars are handmade in the USA.
All the fun style of Duke & Fox® dog collar paired with all the functionality of Fi®.  Our Fi compatible collar comes ready for you to snap in your Fi which can be purchased at www.tryfi.com.
Whether choosing from a traditional dog collar, embroidered dog collar, or engraved buckle dog collar, you'll find a great selection to choose from.  Duke & Fox® personalized dog collars come in a variety of unique styles and patterns. Our embroidered collars and engraved buckle collars also add to your dog's safety and your peace of mind with critical contact information should you and your dog get separated. 
Our collars are functional, stylish, and handmade to stand out and express your pup's personality and your sense of style.  Duke & Fox® custom dog collars are made to order and are customized to your exact criteria.  You have the option of choosing the pattern, thread colors, font, and buckle style. We also offer matching leashes, bowties, flowers, and bandanas to complete your look.
Features: adjustable dog collar made with nylon, renforced fabric, welded d ring and side release buckle. 
Fi Features: 
Fi component must be purchased seperately at www.tryfit.com. Fi is GPS smart dog collar component that is lighted for night walks, waterproof, and has a stainless steel body frame that can sustain 400 lbs of force for those pullers. With a Fi dog collar you can locate your pup or pups (add as many dogs as you want to your app) using GPS from an app on your phone or desktop and also track sleep and track those hikes. 


Sizing restrictions:
This is only offered in 1" width. Depending on the size of your dogs neck the embroidery can be adjusted over but, contact information is still visible for identification purposes. We do not accept refunds and/or exchanges for our custom made items. 
Personalized Dog Collar
I purchased a Personalized collar for my mini Golden-doodle, very nice quality, pricey. Beware this company does not cater to small dogs. Only large dogs. I ordered this off the Fi Dog tracker website. I thought I had ordered the correct size but when you put the Fi tracker device on the Fi 3 compatible collar is too big. Duke & Fox customer service lady said they cater to large dogs. And nothing they can do. This was not mentioned on the website. So I have a useless $65 collar. Bad customer service :(