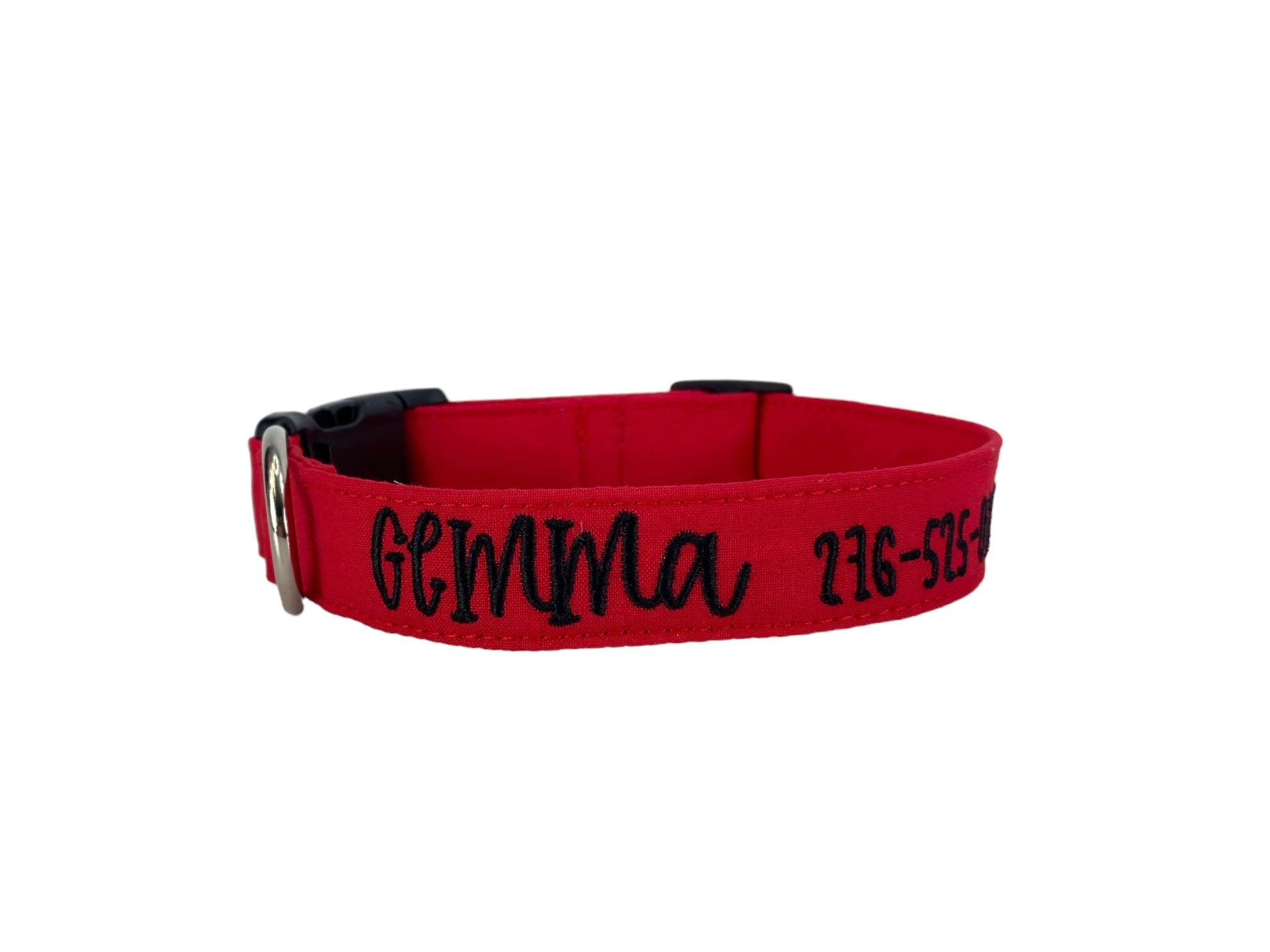 Personalized Dog Collars | Red Embroidered Dog Collars | Duke & Fox®
Duke & Fox® Dog Collars are handmade in the USA.
Keep it basic and stay safe with our embroidered dog collars in colors of your choice. 
Whether choosing from a traditional dog collar, embroidered dog collar, or engraved buckle dog collar, you'll find a great selection to choose from.  Duke & Fox® personalized dog collars come in a variety of unique styles and patterns. Our embroidered collars and engraved buckle collars also add to your dog's safety and your peace of mind with critical contact information should you and your dog get separated. 

Our collars are functional, stylish, and handmade to stand out and express your pup's personality and your sense of style.  Duke & Fox® custom dog collars are made to order and are customized to your exact criteria.  You have the option of choosing the pattern, thread colors, font, and buckle style. We also offer matching leashes, bow ties, flowers, and bandanas to complete your look.
Features: adjustable dog collar made with nylon/polypropylene, reinforced fabric, side release buckle, tri-glide, and welded d-ring.    
A Daycare Collar For Alba!
My dog needed a collar with her name on it for daycare. Tags didn't work and there was another dog who looked just like her. When I researched personalized collars and discovered the Duke & Fox site, it was love at first site. I have ordered two personalized collars from Duke & Fox - one was a pretty flowered wide collar and the second one was a sharp red narrow collar with black lettering, which is striking on my pretty yellow lab. The matching leashes complete the perfect picture. The site is easy to use and my custom collar arrived within a little over a week.