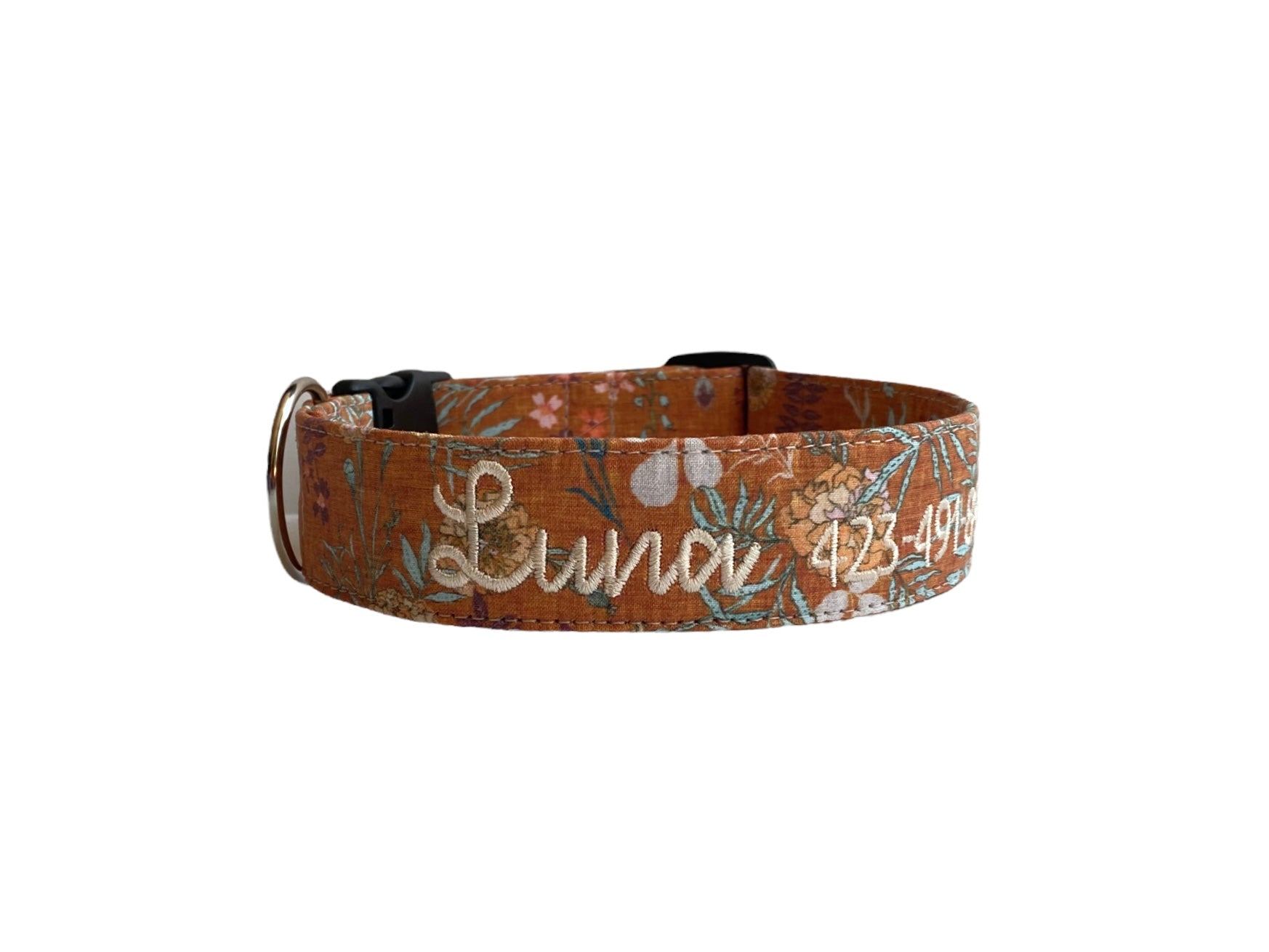 Personalized Dog Collar | Fall Rustic Floral Dog Collar | Duke & Fox®
Duke & Fox® Dog Collars are handmade in the USA.
A wide open field, your pup in the "perfect" collar for the season, leaves changing colors, a cool breeze....now you just need a pumpkin spice latte and you are SET. 

Whether choosing from a traditional dog collar, embroidered dog collar, or engraved buckle dog collar, you'll find a great selection to choose from.  Duke & Fox® personalized dog collars come in a variety of unique styles and patterns. Our embroidered collars and engraved buckle collars also add to your dog's safety and your peace of mind with critical contact information should you and your dog get separated.  
Our collars are functional, stylish, and handmade to stand out and express your pup's personality and your sense of style.  Duke & Fox® custom dog collars are made to order and are customized to your exact criteria.  You have the option of choosing the pattern, thread colors, font, and buckle style. We also offer matching leashes, bow ties, flowers, and bandanas to complete your look.  
Features: adjustable dog collar made with nylon/polypropylene, reinforced fabric, side release buckle, tri-glide, and welded d-ring.   
Recommended thread colors: plum, cream, or burgundy
Fall Small Dog Collar
This is a nice lightweight fall collar for my 7 pound Papillon. She usually doesn't like wearing collars and will keep scratching at them for me to take it off. She leaves this one alone and doesn't seem to mind it. It seems to be made well and the design looks as good in person as it does on the web site.